Ulamo, pleasant...
Ulamo is divided into Ulamo Coating BV and Ulamo Metaal BV. A combination of years of experience, specific knowledge and expertise, plus made to measure service... that is Ulamo.

Ulamo is a specialist in two layer coatings in one process. We offer super fast delivery (XXL) thanks to various production units in a range of locations. We have an eye for the people and the environment within the company.
At Ulamo, everything we do is aimed towards continual quality resulting in quality coatings.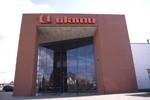 Ulamo Metaal BV is almost entirely dedicated to the production of metal accessories for the radiator industry. Ulamo Metaal is notable for its large range, returning trade, and market focus.

Ulamo's metal division serves the largest sector of European radiator products. This division has consistently developed innovative products for the radiator industry, both through our own management and close cooperation with customers, resulting in a range of patents. Alongside this, Ulamo Metal is also active in distributing metal products to the market.